Last Tuesday, I finally dropped by Eaton Center to check out the newly open Time Out Market on the second floor. The 40,000 square foot food court, dubbed Montreal's most ambitious culinary project, includes 16 restaurants spaces for some of the city's most acclaimed chefs.
What is Time Out Market?
For those not familiar with the concept, Time Out Market first started in Portugal few years ago and offers a culinary experience by acclaimed chefs at very affordable prices. Similar markets are set to open in Chicago, London and Dubai soon. One noticeable feature about this market is that all chefs are locals.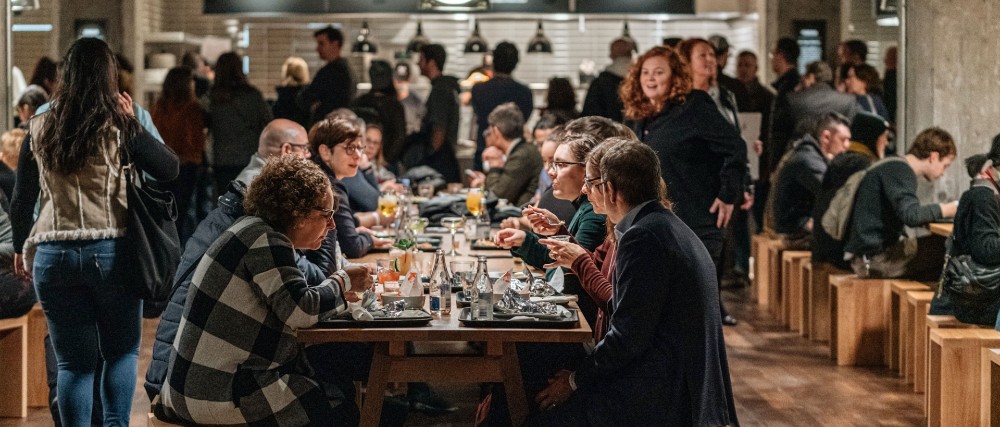 Which restaurants are open there?
There are 16 restaurant spaces open, as well as a beer bar, wine bar, Time Out bar, ice cream stand (Dalla Rose), a soda bar and a cooking school.
Here's the [list] of restaurants:
Patisserie/Dessert – HOF SUCRÉE
Chef – DEMO KITCHEN
Japanese – MARUSAN
Asian- LE RED TIGER
Deli – MONTRÉAL PLAZA DELI
Chef- PAUL TOUSSAINT
Chef – CHARLES-ANTOINE CRÊTE ET CHERYL JOHNSON
Chef- LE CLUB CHASSE ET PÊCHE
Griffintown BBQ – FOXY
Burgers – BURGER T!
Pasta – IL MIGLIO
Pizza – MOLESKINE
Portuguese Chicken – ROMADOS
Salads/Healthy – FOODCHAIN
Mexican – GRUMMAN' 78
All Day Breakfast – OLIVE & GOURMANDO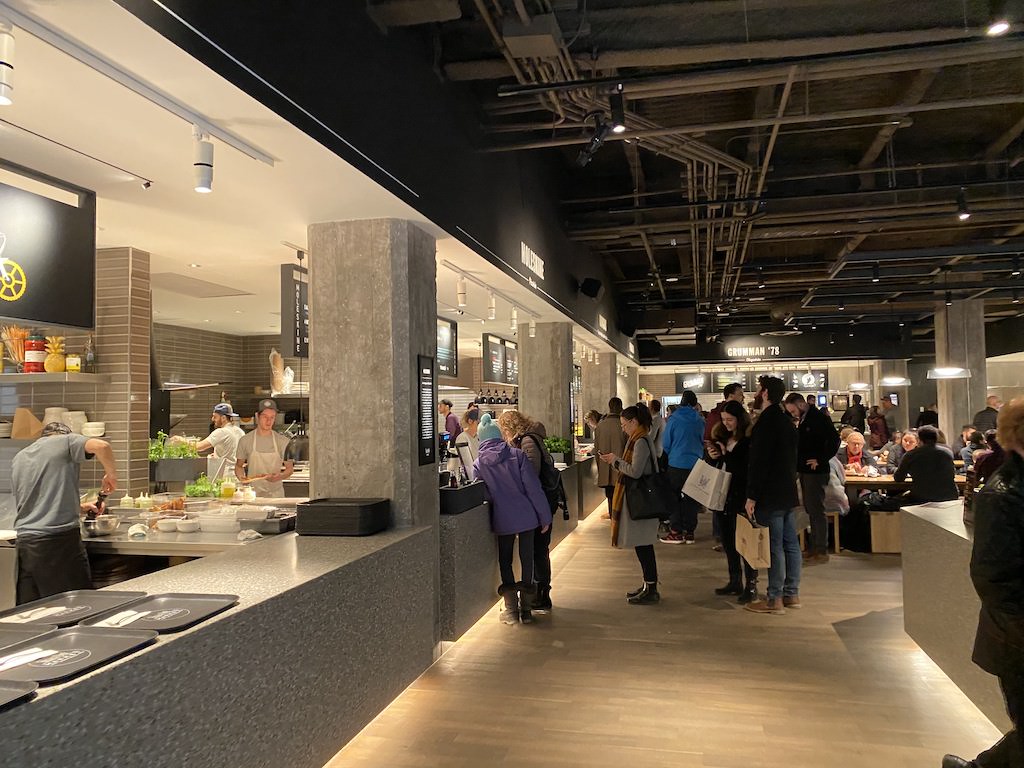 Which places did we try?
PS: I forgot to take food pictures as we were very hungry, plus it was night time. I will be back for sure during day time to take good pictures. In the mean time, I used the ones published on Time Out Montreal's instagram.
We got from:
Il Miglio
– Fusilli Pistaches & Crevettes
– Campanelle Champignons Truffe
Moleskine:
– A Marguerita Pizza (Only one available)
Romados:
– Two chicken breast with fries and a salad
Olive & Gourmando:
– Le Cubain sandwich (pancetta, roasted pork, raw milk gruyère topped with lime, cilantro, chipotle & pickle mayonnaise).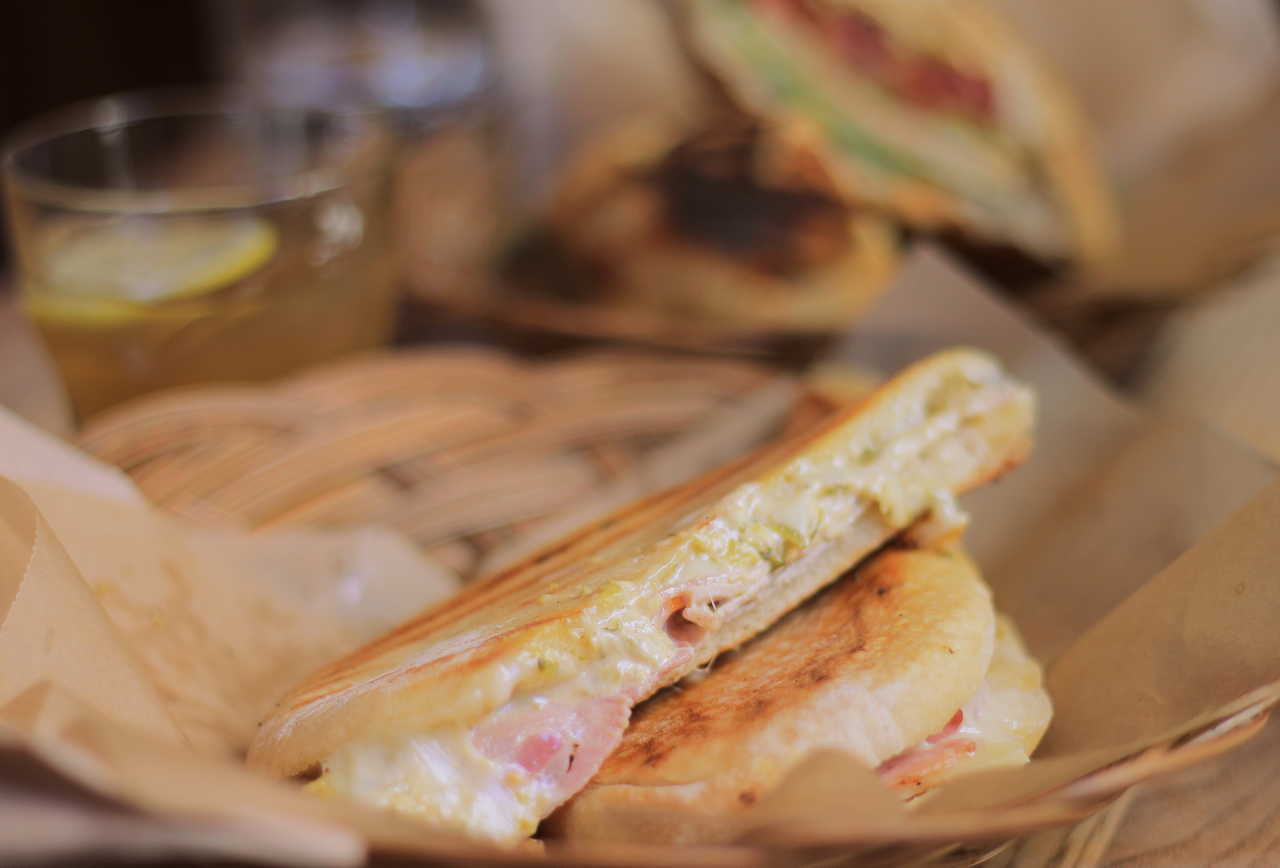 Le Club Chasse et Peche:
– Salmon Tartare
Foxy:
– Grilled Trout
First Visit Verdict:
The space is amazing and fits beautifully with the impressive new Eaton Center. Despite going on a busy night, we found a table in less than 15 minutes and the service was quite fast. In terms of food:
– The grilled trout was superb.
– The Salmon tartare was freshly prepared and delicious.
– Le Cubain Sandwich never disappoints. I've been to Olive & Gourmando twice already and this is a must-have sandwich.
– The Romados Chicken breasts were juicy and great too.
– The pizza was a bit disappointing on the other hand. I'm hoping they will have other options next time to try them out.
– The Fusilli pasta was good, the truffle one was ok.
There are plenty of restaurants I'm still eager to try, especially Burger T, Grumman's 78 sweet potatoes, vegan hotdogs from eatfoodchain, le Red Tiger's spring rolls and the fried-scallop sandwich (Charles-Antoine Crête and Cheryl Johnson's).
Stay tuned for more!