Before I start blogging properly about the experiences and the places we've been to here, I thought I write first about why we decided to move here as a family and our first impression of this city. Before stating why we moved, I believe we should consider ourselves lucky to have had the opportunity to migrate to Canada, and more importantly lucky to have had parents that worked their asses off to put us in the best schools, got us the best education possible, helped us settle in our lives and guided us to making the right decisions. No one wants to see his son or daughter leave to another country, but no one wants a toxic environment like the one in Lebanon unfortunately right now. I worked for years to gather documents and submit new forms to become a permanent resident, and following our first visit to Montreal in 2016, it became quite clear that this was the right move for our kids and for us as well.
First Impression:
While the 2016 trip was a short one, it gave us a brief idea about the city, its people, its landmarks and its mood. We were here for only ten days, but visited Mont Royal (Parc + Cross + Lac des castors), Oratoire St Joseph, Vieux Port on two occasions, Place des Arts, Notre Dame Cathedral, Place Jacques-Cartier, Parc Jean-Drapeau, Parc La Fontaine, St. Catherine, the Biodome & Biosphere and tried the popular chains, dishes and specialities (Reuben's, Baton Rouge, La Banquise, Bagels, Poutine, Ribs etc ..).
Fast forward to 2018, we wanted to experience every daily life not as tourist but as residents yet wanted to stay in the city for now. We rented an apartment at Les Appartements LaCité, with a beautiful view over Mont Royal & Parc Jeanne-Mance. The buildings were a bit old, but were perfectly located. We had everything close-by, from supermarkets (inside the building), restaurants, popular chains, pharmacies, metro stations and parks. We could walk in 15 minutes or less to St. Catherine, Place des Arts, Parc La Fontaine, Parc Jeanne-Mance and Mont Royal (lower part), plus we had a pool and a gym in the building.
At first having a supermarket or a pharmacy or even a Dollarama inside a building or a complex didn't seem like a big deal, but it's a real game-changer when winter comes, and winters are long here 🙄😂.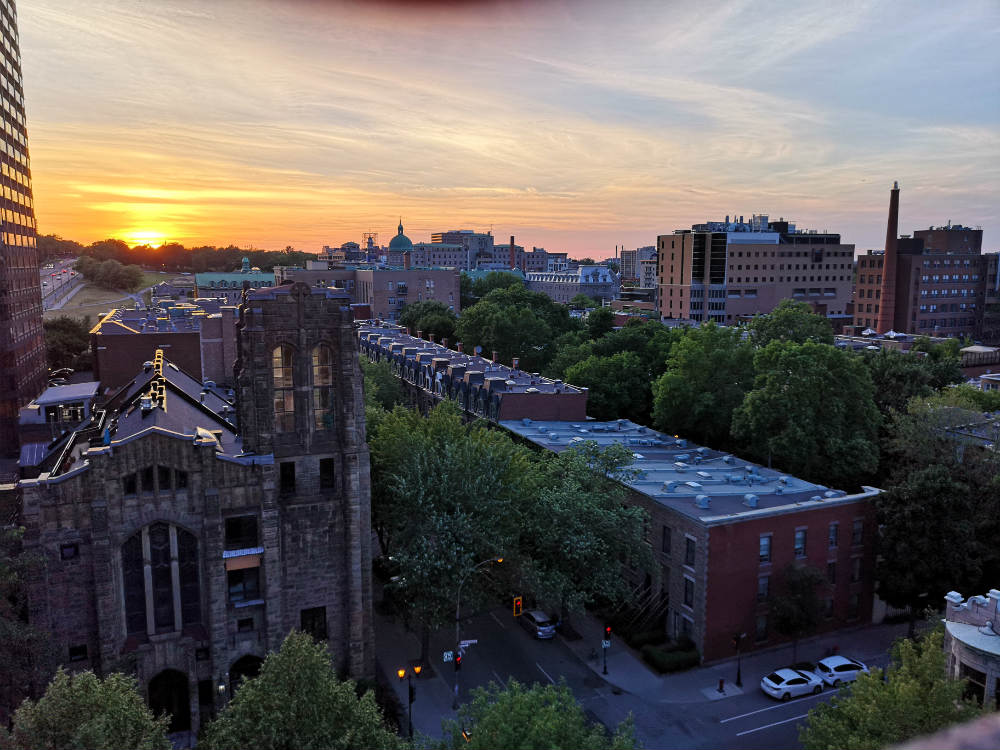 Anyway, convenience was our top priority especially that my wife was pregnant and it was a flawless experience. We finished our paperwork in no-time as all the agencies were also nearby, supermarkets and shops are much cheaper than Beirut, food tastes better, beer is amazing, people are always smiling and friendly, there's barely any traffic plus you don't need to drive at all, the parks are super clean and fun to go to, we became regulars at Place Des Arts and enjoyed many BBQs & picnics on the terrace or at the park.
The best part for me personally was the clean environment and the abundance of playgrounds, parks, events, greenery around us. I used to walk/jog early morning to Mont Royal or Parc La Fontaine almost daily, and take Brian to nearby playgrounds in the afternoon (versus getting stuck in traffic for 4 hours on a daily basis and taking Brian to a mall to play on weekends back in Lebanon). It's the little things that matter the most, and you'd be amazed how every single detail is taken care of to make you feel comfortable in this beautiful city (put aside the never-ending road works).
To sum things up, Montreal exceeded our expectations during that summer and we're still loving it even after surviving a long winter. There's still a lot to explore obviously, and we're still a bit far from being settled in properly, but I couldn't have hoped for a better first impression.